Referințe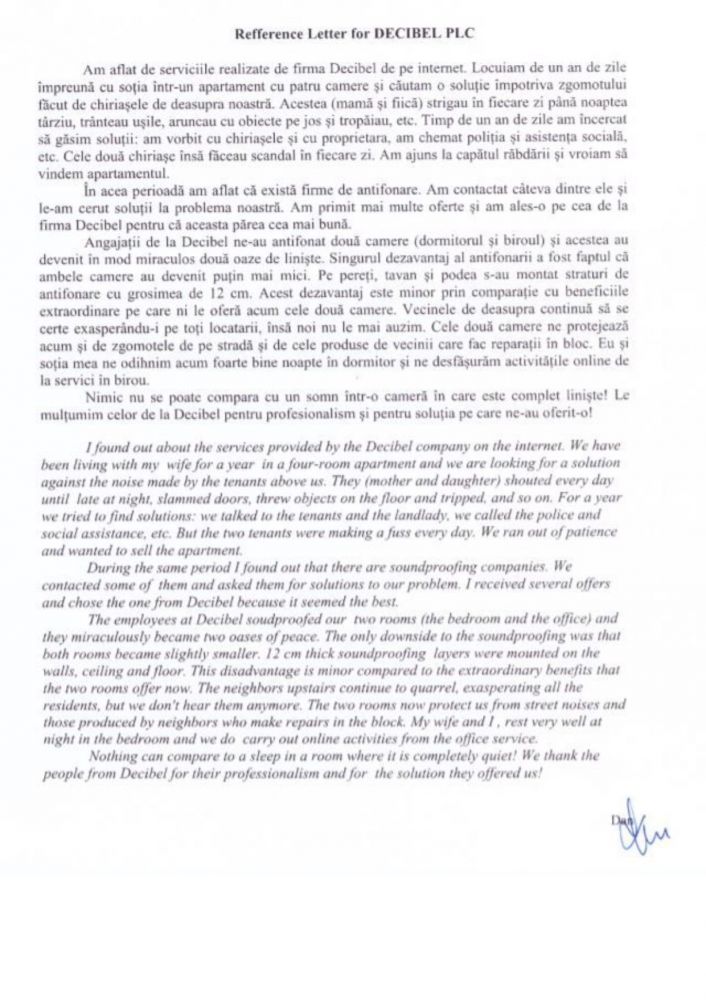 "Nimic nu se poate compara cu un somn într-o cameră în care este complet liniște! Le mulțumim celor de la DECIBEL pentru profesionalism și pentru soluția pe care ne-au oferit-o!"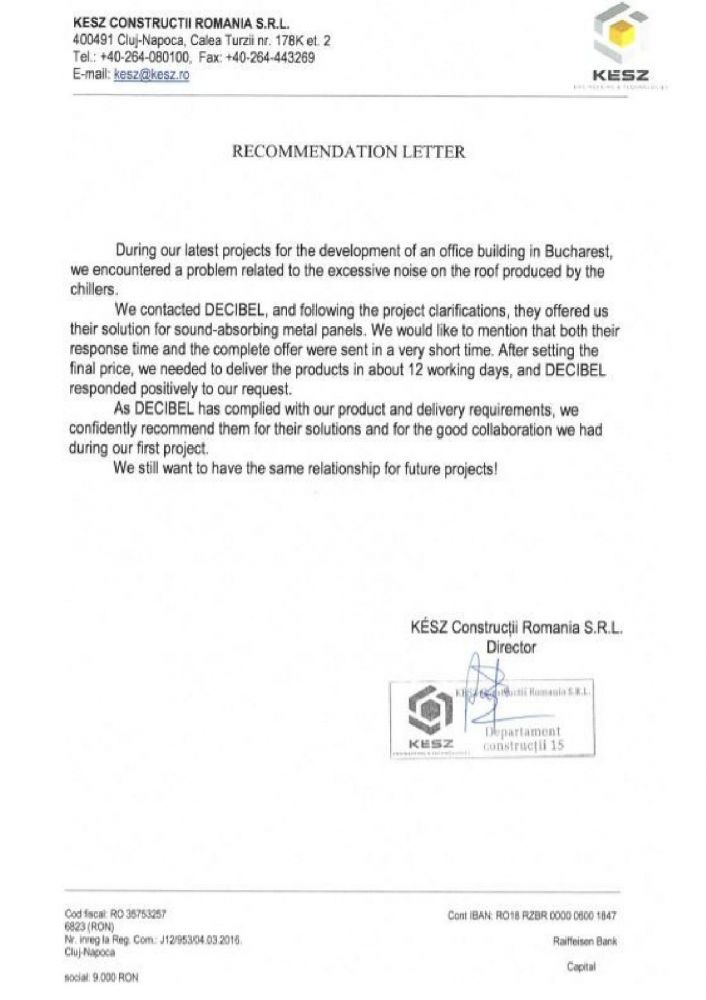 "Intrucat DECIBEL a respectat cerintele noastre asupra produselor si a timpului de livrare ii recomandam cu incredere pentru solutiile lor si pentru buna colaborare pe care am avut-o de-a lungul primului nostru proiect comun."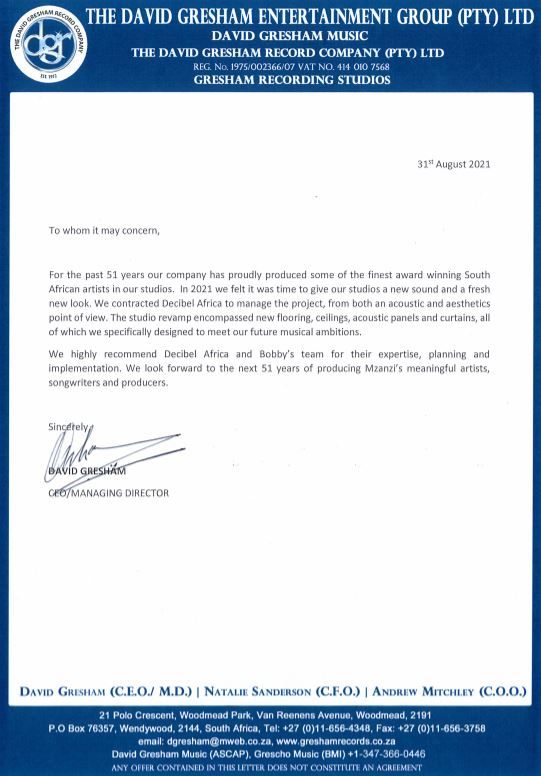 Am contractat DECIBEL pentru a gestiona proiectul, atât din punct de vedere acustic, cât și din punct de vedere estetic. Vă recomandăm cu tărie expertiza, planificarea și implementarea.
"MMG Music recomandă buna performanța a DECIBEL și își exprimă aprecierea pentru munca lor. Nu ezităm să recomandăm DECIBEL."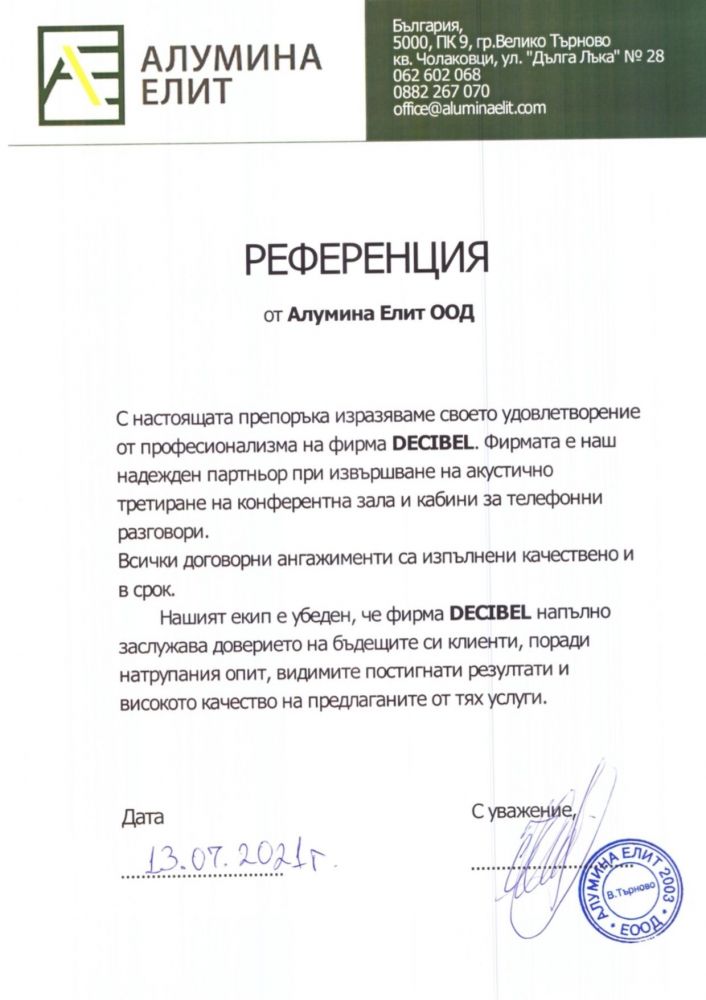 "DECIBEL merită încrederea viitorilor săi clienți datorită experienței acumulate, rezultatelor vizibile obținute și calității ridicate a serviciilor pe care le oferă."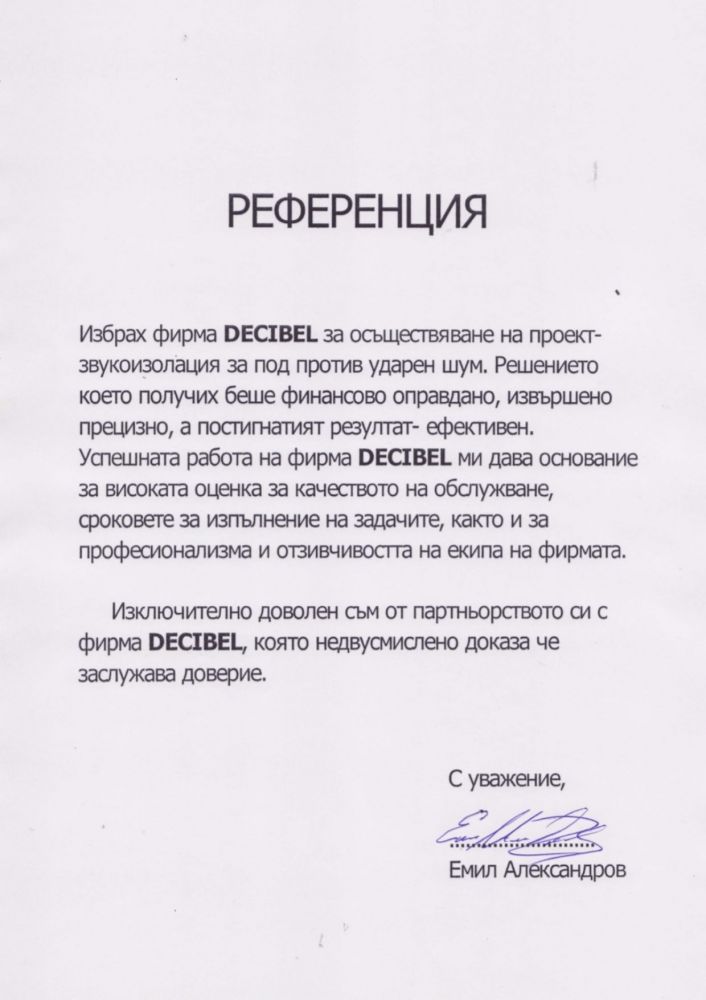 "Compania DECIBEL a funcționat precis, oferta lor a fost profitabilă din punct de vedere financiar și rezultatul a fost eficient. "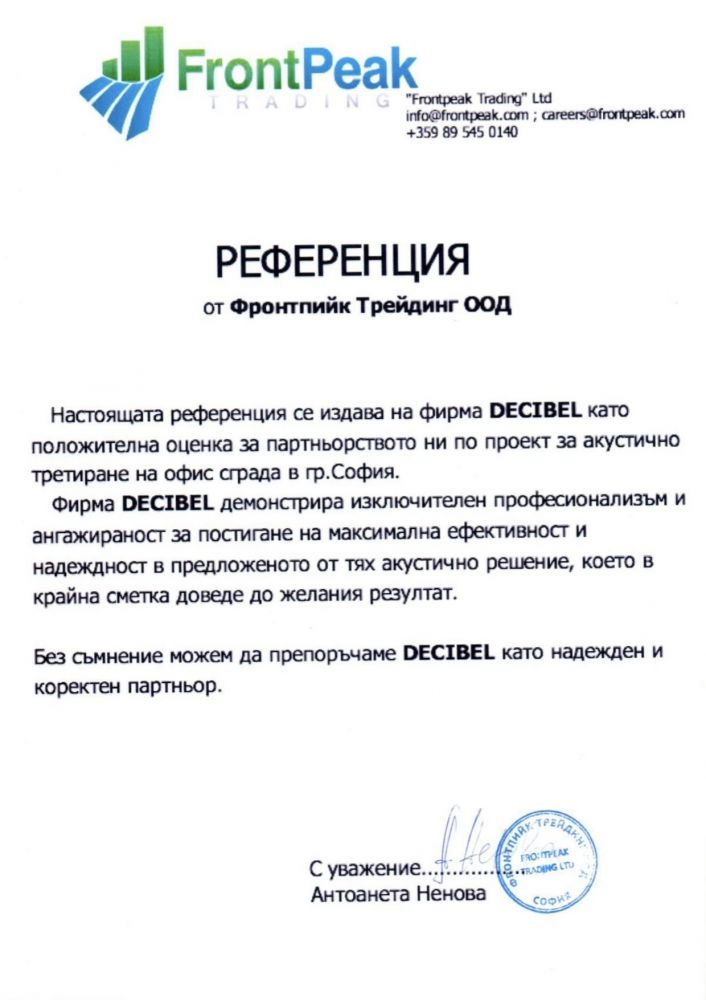 "Compania DECIBEL demonstrează profesionalism și angajament în realizarea eficacității și fiabilității maxime pentru soluția propusă, care în cele din urmă a dus la rezultatul dorit."
" Soluția pe care am primit-o de la compania DECIBEL a fost opțiunea potrivita pentru noi - profesională, eficientă și profitabilă din punct de vedere financiar. Instalarea a fost făcută precis, rapid și curat. "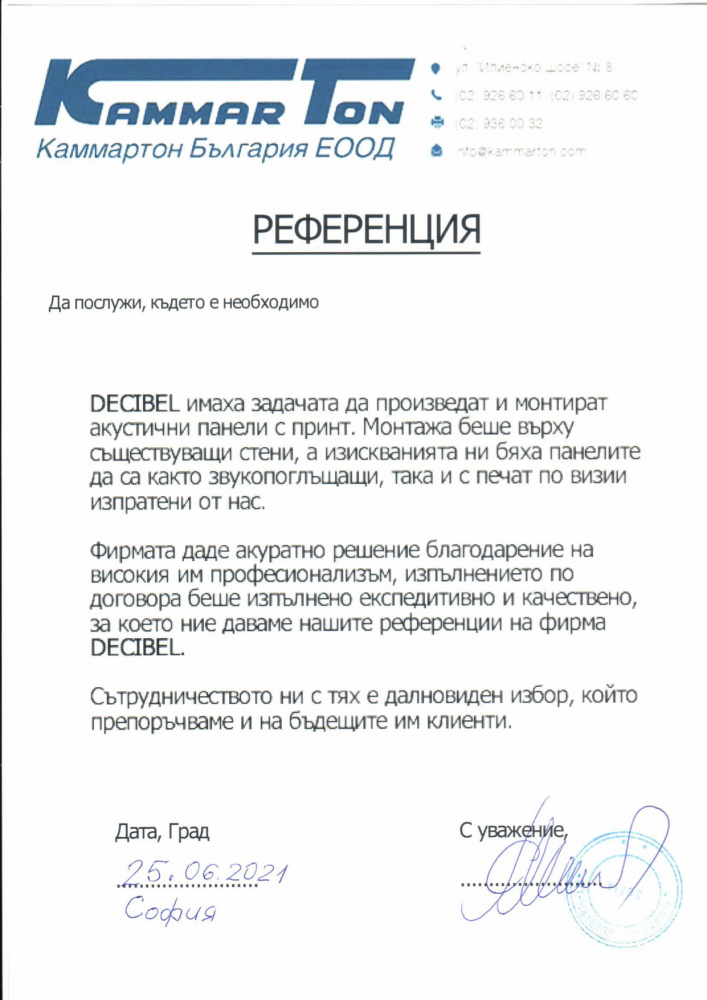 "Am primit cea mai bună soluție multumita profesionalismului DECIBEL. Au fost rapizi și de o calitate ridicata , motiv pentru care oferim referințele noastre companiei DECIBEL."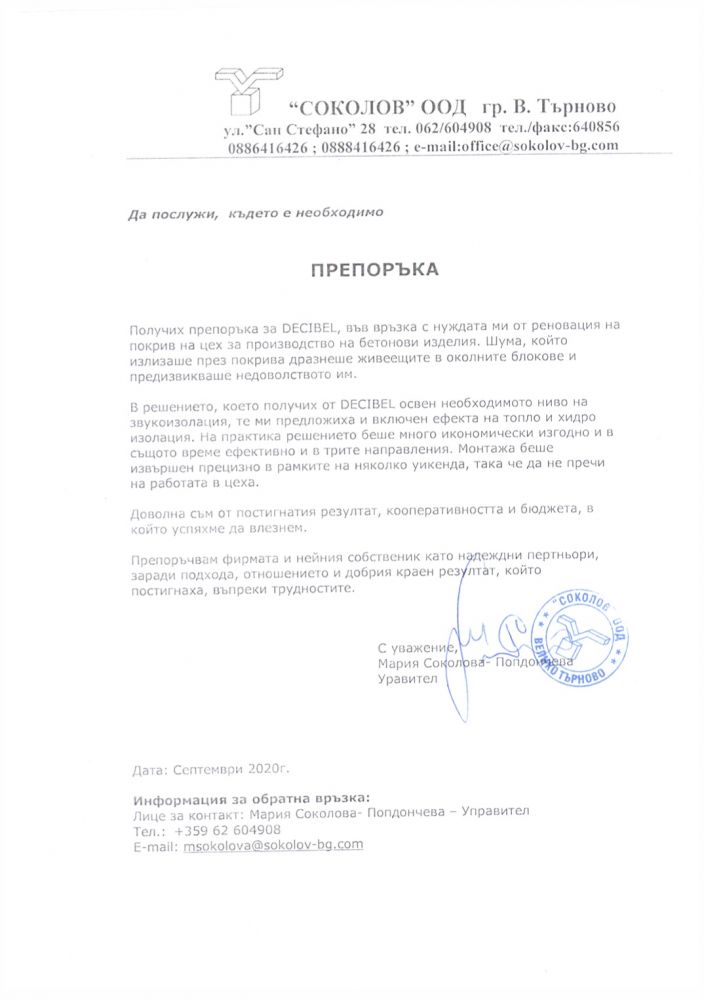 "I am satisfied with the result achieved, the cooperation and the budget we managed to enter.
I recommend the company and its owner as reliable partners, because of the approach, the attitude and the good end result they achieved, despite the difficulties. "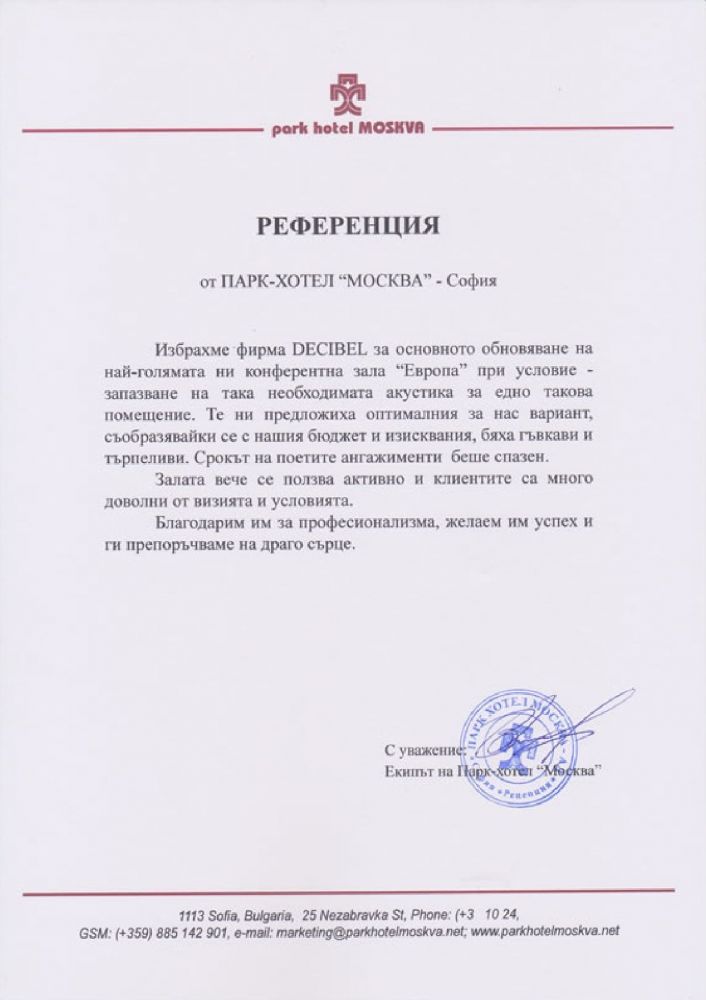 "They offered us the best option for us, according to our budget and requirements, they were flexible, .... we gladly recommend."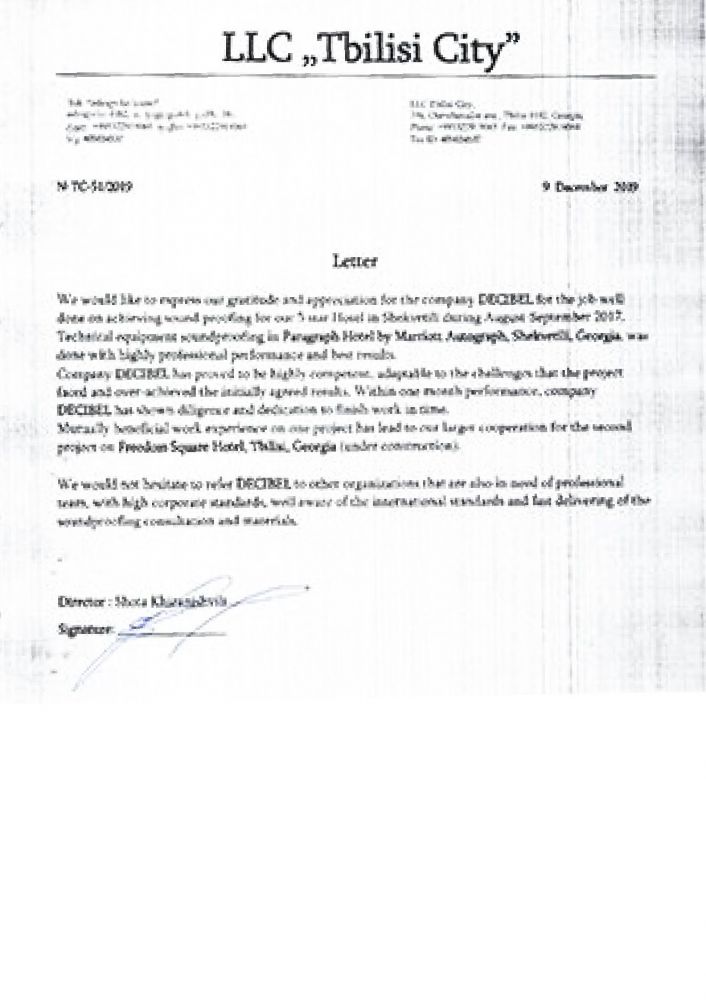 "Company DECIBEL has proved to be highly competent, adaptable to the challenges that the project faced and over- achieved the initially agreed result."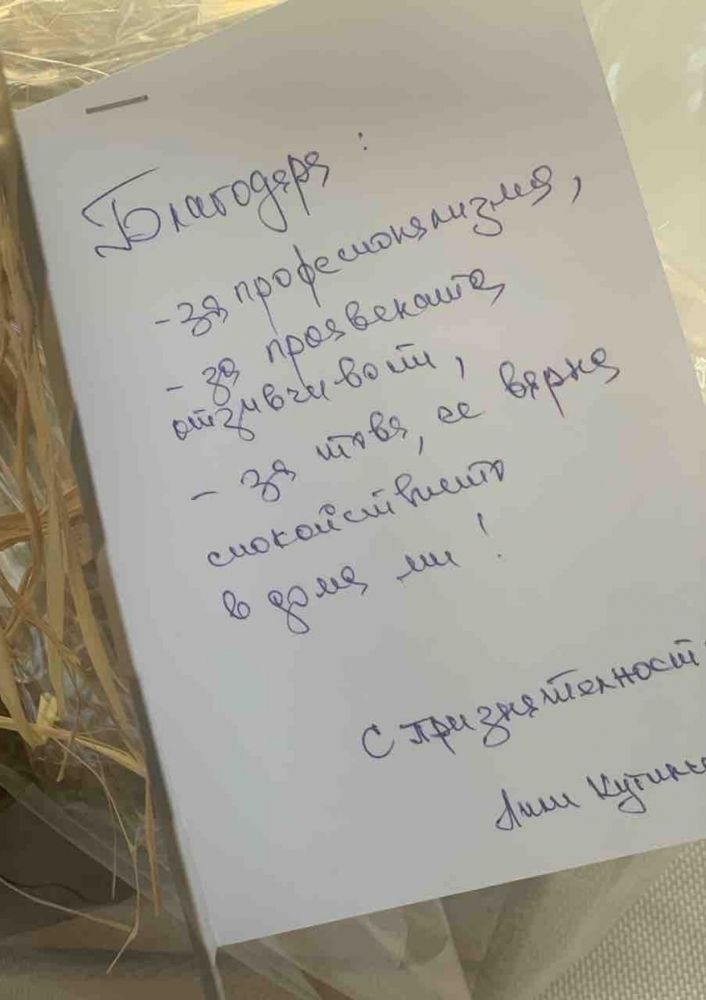 "Thank you:
- for the professionalisms
- for the customer service
- and for bringing back the peace in my home"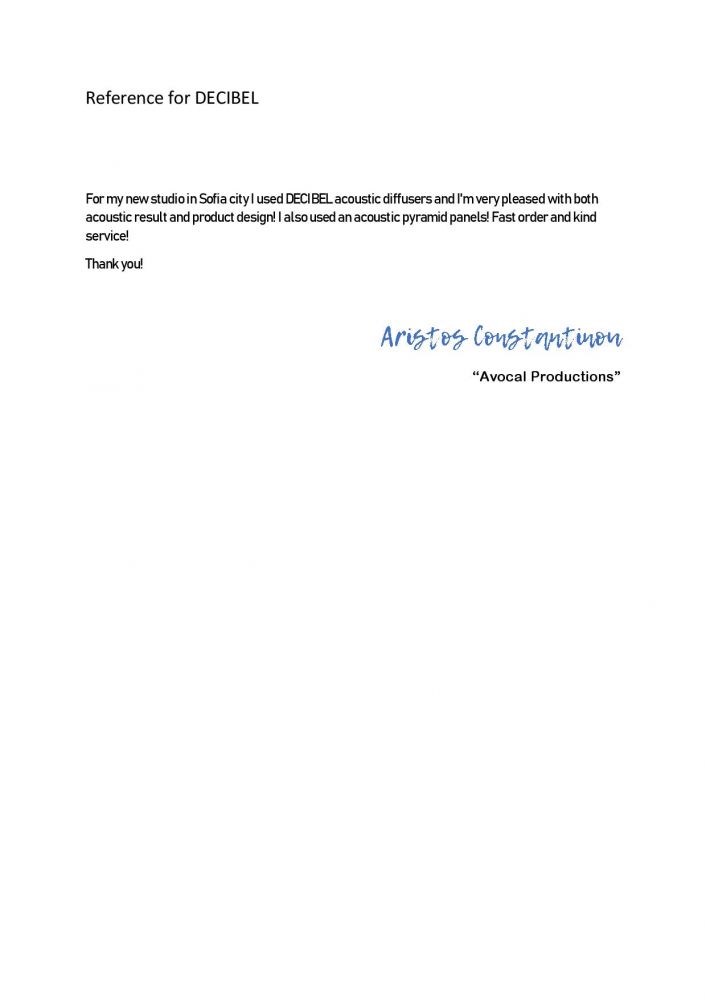 "For my new studio in Sofia city I used DECIBEL acoustic diffusers and I'm very pleased with both acoustic result and product design!...Thank you!"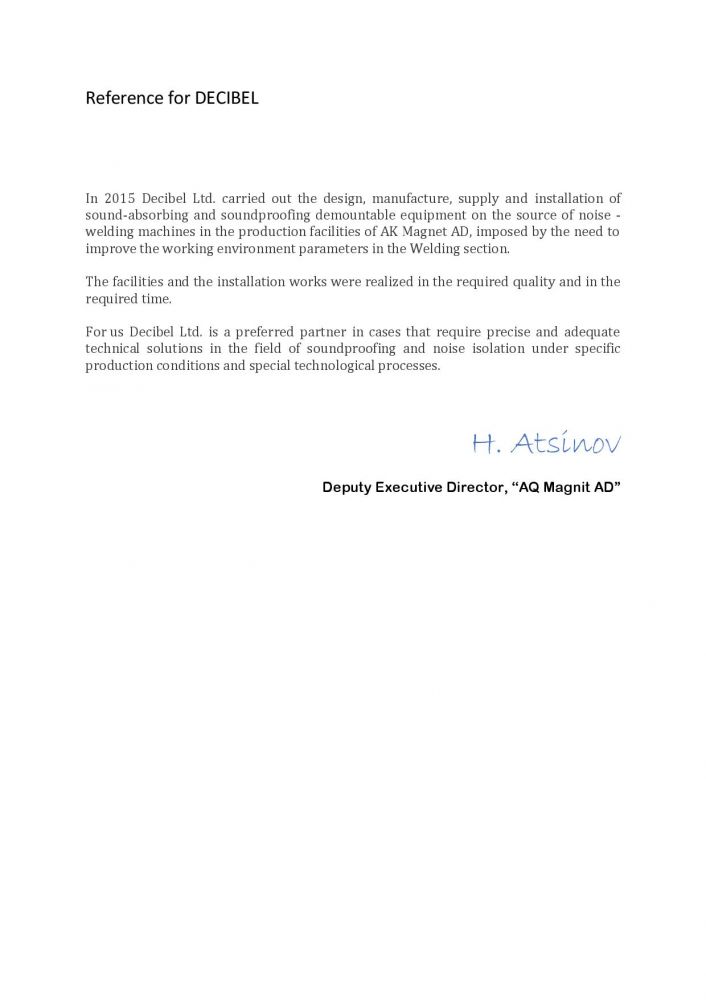 "For us DECIBEL is the preferred partner in cases that require precise and adequate technical solutions in the field of soundproofing and noise isolation..."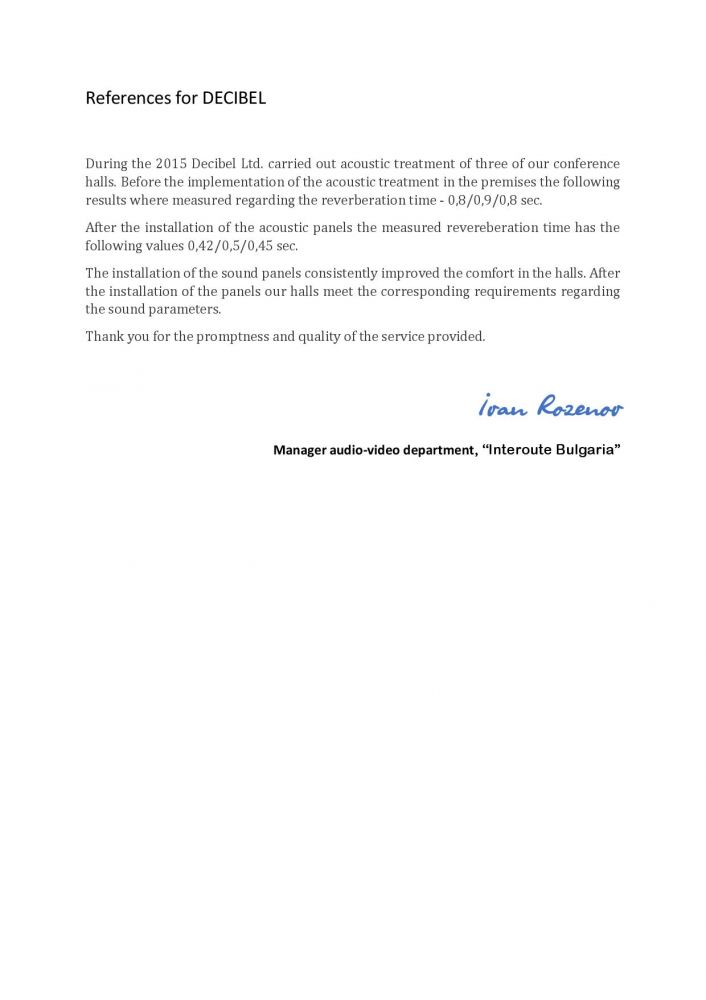 During the 2015 Decibel Ltd. carried out acoustic treatment with panels of three of our conference halls.After the installation of the panels our halls meet the corresponding requirements regarding the sound parameters. Thank you for the promptness and quality of the service provided.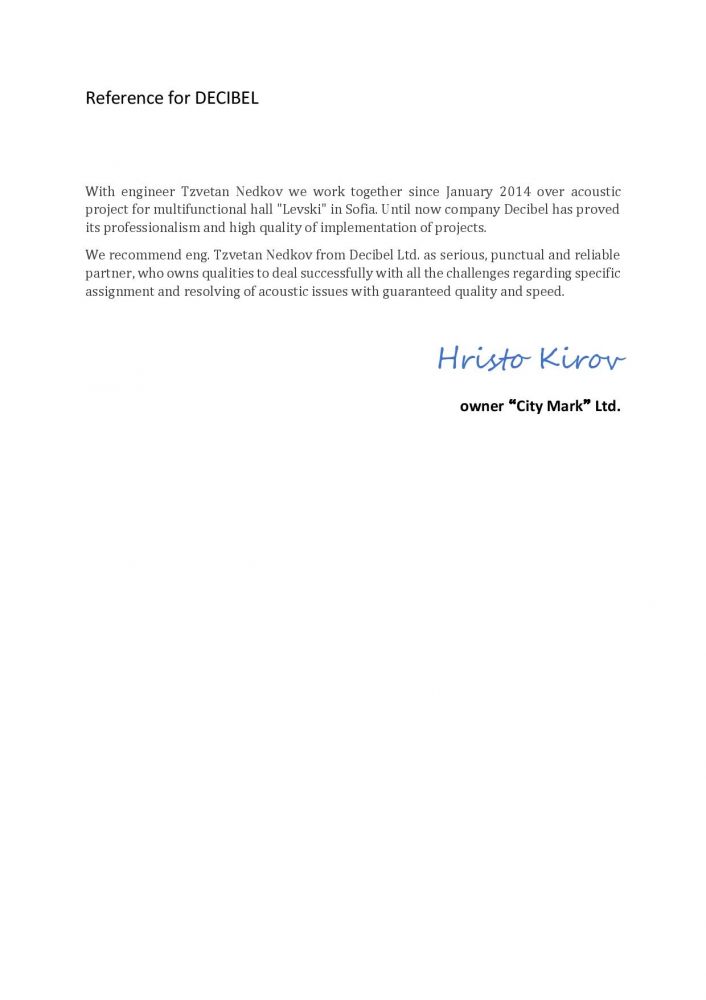 "We recommend eng. Nedkov from DECIBEL as serious, punctual and reliable partner, who owns qualities to deal successfully with all the challenges regarding specific assignments...fast and with guaranteed quality."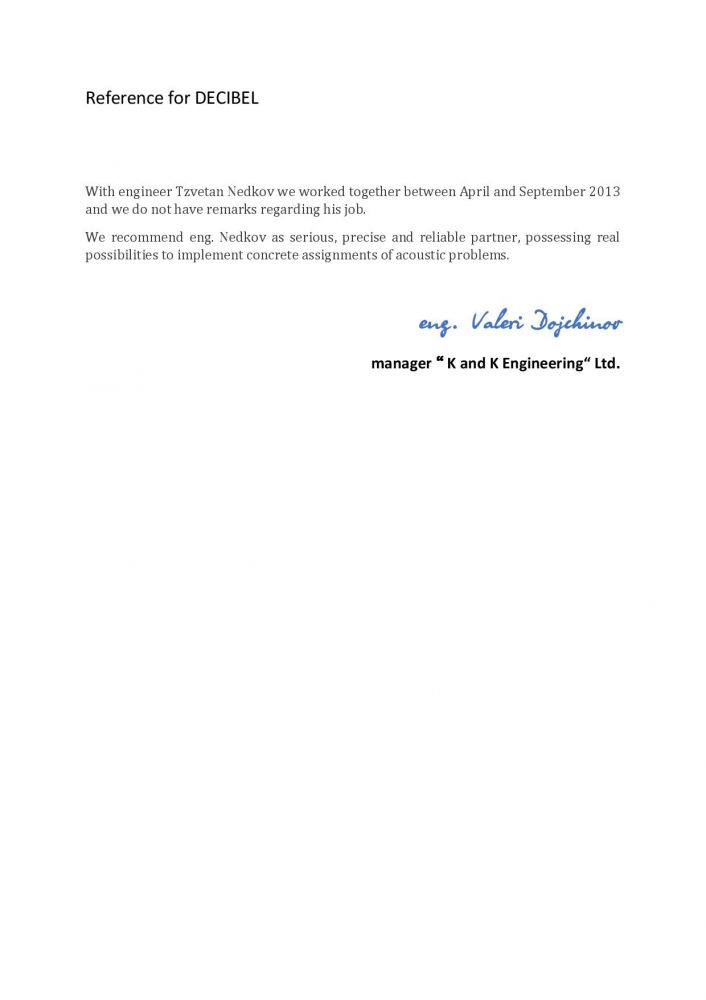 "We recommend eng. Nedkov from DECIBEL as serious, precise and reliable partner, possessing real possibilities to implement concrete assignments of acoustical problems."